Introduction to the Art of Poetry
Enrollment and Placement
To help ensure that students enroll in the correct course levels, Scholé Academy requires many students to complete placement evaluations. Placement evaluations are only provided to students after the corresponding course registration has been completed. A placement assessment will be required in the following situations:
if the student falls outside of the stated age/grade range for the class.
if the student needs to demonstrate a certain level of skill and proficiency for the course.
if the student has completed prerequisite requirements somewhere other than Scholé Academy (e.g., at home or with another school). In this case, our instructors will need to verify that the student has adequately fulfilled the prerequisite requirements.
if a placement assessment has been recommended by a Scholé Academy instructor.
First, read the available course descriptions, noting prerequisites, target grades, and course objectives. If you think your student is prepared for the course, go ahead and register. After registration, a placement assessment may be provided to students, depending on the course and the student's previous enrollment with Scholé Academy. Parents are encouraged to connect with the Scholé Academy Principal and/or with the course instructor to make the best enrollment decision for their student.
Registration is not finalized until the student's placement assessment has been returned by the course instructor with placement confirmation.
There is a $75 deposit built into the cost of each course.
Withdrawals requested before May 1 are granted a full refund, including the full $75 deposit.
On May 1 and before July 31 withdrawals are granted a full tuition refund less the $75 deposit.
On August 1 and before the drop/add deadline, withdrawals are granted a ½ tuition refund
View our full assessment policies and enrollment and withdrawal policies in the Student-Parent Handbook.
The Introduction to the Art of Poetry course is the equivalent of a one-half elective high school credit. This fall semester course will study the first eight chapters of Christine Perrin's curriculum, covering over half of the 39 poems therein. (The remaining chapters will be studied in the Formal History of Poetry spring semester course.) The class will complete two chapters per month, supplemented by poet biographies, a glossary, and a detailed time- line in the back of the book. This curriculum should dovetail nicely with rhetoric and writing units as well as literature classes as students learn how to interpret language and write both analytically and [figuratively.
Students will study the elements of poetry throughout these [first eight chapters, as they explore how to read a poem closely and absorb its beauty. Classes will begin with one of the chapter poems and then gravitate naturally to more poems in the chapter that help students understand the elements of poetry: images, metaphors, symbols, words, sounds, rhythms, shapes, and tones.
Students will learn how metaphors, for example, express something abstract in terms of something concrete, also known as word pictures. This is the way we understand God's world. In fact, if you look at science, you can see that we've been doing this all along to help us understand things that we can't see — like the atom. Moreover, metaphors are vivid and
often can explain things better than a simple definition. They also can surprise us and help us view God's world in a fresh way.
In every chapter of the book, there is a "Learning to Read Closely" section that homes in on how to read and interpret language, the study of which can serve as a guide for students in all future studies. As we study each poem, we will reference the poet biographies and historical narrative in the back of the book. Students will grow in their consideration of imaginative comparisons while studying the poetic elements; focusing on how a piece of writing achieves its meaning, rather than simply looking at what it means.
Students will use the practical, hands-on activities outlined throughout the textbook to supplement class studies and assist in developing and writing their own poetry. Students will interact with the textbook and each other in several ways to experience the full reach of poetry. Throughout these activities, students will learn to interpret others' poems and write their own poems through a natural progression of steps:
Read Aloud. Poetry needs to be read aloud so, as Perrin says, you can feel it in your mouth and hear it in your ears. We will begin every class by reading poems aloud, at least twice. The sound, rhythm, and tone of a poem becomes interlaced with its meaning. Stu- dents also will be asked to record themselves saying poems. When speaking and then listening to ourselves speak, we can pick up subtle meanings that we may not have heard or understood otherwise.
Memorization. Memorizing poems helps students internalize and understand the work from the inside out, learning about and feeling the specific lines and joints of a poem. Reciting poems creates sounds and rhythm, internalizing the music of a poem. Students will learn how to memorize with the aid of hand motions, songs, images, sounds, lines, and sentences. Students will be asked to memorize at least one poem from every chapter.
Socratic Discussion. People often interpret poems Classes will revolve around the good, hearty discussion that leads to greater understanding. Students will be encouraged to share their interpretations with support from the poem and the history surrounding it. There will be healthy debate as students agree and disagree. The class will review how concrete images can inspire abstract interpretation — along with how to know where comparisons should begin and end. We will explore how to know when an interpretation is unsupported and therefore taken too far.
Free-writing. During some classes, students will be invited to "free write" for a short pe- riod of time. Free-writing involves writing down whatever comes to mind without pausing to mull it This practice can inspire great inspiration and creativity. Topics might include writing about a favorite image or symbol, or writing thoughts inspired by one of the poems in the textbook.
Journal Students will keep a writer's journal of their own poems and favorite po- ems. They also will have a poetry notebook that will include ideas for poems and the poetic elements; studies of different poets, images, and time periods; and a timeline of the poems and poets studied.
Poetry Slam. At the end of each quarter (twice for the fall semester), students will be invited to share their favorite poems (both their own and/or another poet's work) as a group.
Chapter and Vocabulary Quizzes. Quizzes will be given at the end of every chapter, along with one cumulative test at the end of the course. These quizzes will incorporate the vocabulary words listed in every chapter as well.
Hands-On Activities. Each chapter shares several in-class activities and homework assignments to help students work through and understand the poetic elements, along with the history surrounding the poems and their creators. Here are some of these activities:
Take five minutes to free write about images from one of the four seasons; then write a poem using this as an inspirational guide.
Describe an image that is meaningful in your life and use it in a poem.
Play a word association game as a class to inspire your writing on a certain theme.
Study an image (such as a bird) in a poem by learning about it from textbooks as well as in nature. Use your study as the foundation for a poem.
Memorize one of the chapter poems by incorporating hand motions or singing.
As a class, brainstorm some symbols that are connected to your school, home, or country.
Look at a painting and make a poem to describe it by the sounds of words and their arrangement in lines.
Take one of your favorite poems and set it to music.
Draw the poem I dwell in Possibility. According to Emily Dickinson's words, what would the house of poetry look like as a sketch?
Christin Perrin's explications of the chapter poems lay a strong foundation that will guide classes and promote understanding while fostering students' own creativity. Her invitations to delve deeper into poetry through historical perspectives, poet case studies, and hands-on activities will help students capture the beauty of this art form and hopefully draw from its well throughout their whole lives.
Syllabus
For each skill instructors have determined whether it is a prerequisite skill or a skill to be developed throughout the course. For lower school, instructors indicate where parent support is expected.
With Parent Support: Skills that most lower school students will need help with.
Developing: Skills that the instructor will help develop and emphasize throughout the year.
Mastered: Prerequisite skills that the instructor is expecting students to possess.
---
Schoology
Mastered

Be able to manage Schoology assignments and submissions (view assignments, check for teacher messages, submit homework as pdf file, submit revisions if necessary, set Schoology notifications for the class, view class notifications when posted, etc.).
Be able to set notifications settings to alert the student of class announcements, homework assignments, due dates, instructor comments made on assignments, instructor comments made on individual student submissions, instructor comments made on graded items, etc.
Be able to review notifications ongoing throughout the year; notifications which include: class announcements, homework assignments, due dates, instructor comments made on assignments, instructor comments made on individual student submissions, instructor comments made on graded items, etc.
Be able to respectfully and wisely engage with other students and the instructor on Schoology discussion boards.
Be able to respectfully, wisely and formally engage with instructor through private Schoology messaging.
Be responsible for reviewing teacher feedback, suggestions and comments about student work and employing that feedback as necessary.
Writing
Mastered

Be able to hand-write answers in complete sentences.
Be able to write sentences with basic sentence syntax (i.e. capitalization of first word in a sentence, punctuation at the end of each sentence, space between sentences, capitalization of proper nouns, each sentence having a subject and predicate, etc.).
Be able to spell at grade level and employ course vocabulary cumulatively throughout the course.
Be able to build well organized paragraphs which employ (among other skills) topic sentences, transition sentences, clear linear thinking throughout the essay.
Be able to build a logical, well-reasoned argument through a written essay providing sound reasoning (i.e. true premises, valid arguments, sound conclusions).
Be able to request a family or peer to edit submissions, but understands these requests should be for the purposes of raising important questions for the student to consider and suggesting minor edits. The student understands that family or peer editors should not be reworking of sentences, redefining terms, building new concepts, building arguments or writing passages for the student.
Be able to build and use alphanumeric outlines as part of the writing process.
Be able to employ the feedback of the instructor into future edits and submissions of the assignment.
Be able to self-edit written submissions for grammar and spelling mistakes.
Reading
Mastered

Be able to read material independently and identify the information which might be relevant to course discussions and objectives (even if the student doesn't fully understand all of what's being read).
Be able to mark, underline or highlight important words, definitions or concepts within a text being read both while reading independently and reading corporately as a class.
Be able to identify key terms in a passage, and follow the author's argument.
Be able to read material independently and identify questions which require clarification or further explanation from the instructor.
Be able to listen to the author's argument and understand it even if the student disagrees with the conclusion reached or reasons given.
Typing
Mastered

Be able to type short answers in complete sentences.
Be able to type paragraph essays (short essays, and 5 or more page essays).
Be able to employ basic MLA formatting skills (i.e. 1-inch margins, double spacing, heading on paper).
Be able to employ MLA citations for (for quoted material and referenced material) through the use of footnotes or endnotes, bibliography, work-cited page. Student should have a concept of what plagiarism is and know how to avoid it.
In-Class
Mastered

Follow along with instructor-led note-taking and record notes during class.
Follow along with instructor-led workbook completion and record answers during class.
Be prepared to thoughtfully answer questions when called on in a group setting, during class.
Be prepared to volunteer thoughtful comments, answers and ideas in a group setting, during class.
Be prepared to generate thoughtful questions to enhance the class discussion, to identify areas needing clarification, and to make valuable connections with other course content.
Follow class discussions and seminar conversations to record notes without the instructor identifying specifics.
Study
Mastered

Be responsible to study at home for quizzes, tests and other assessments.
Understand the difference between assignments given by an instructor and the necessary and independently initiated need for private study of material.
Be able to schedule and manage multiple projects from multiple instructors and courses.
Be able to schedule time outside of class to complete independent review of materials.
Be able to determine the best places and ways to study at home (i.e. quiet, undistracted, utilizing various methods of review (auditory, written, visual, practice tests, flashcards, etc.).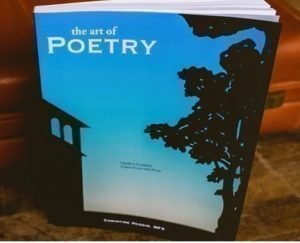 REQUIRED COURSE TEXTS:
The course text is The Art of Poetry, which is available from Classical Academic Press (www.ClassicalAcademicPress.com).
REQUIRED COURSE MATERIALS:
Two writing notebooks: One will be a writing journal and the other will be a poetry
Highlighters and pencils: These will be used to annotate poems and take class
Voice recorder: Any kind of recorder, such as a smart phone, will work to record and play back student poem recitations.
OPTIONAL COURSE TEXTS:
Poet's Choice, edited by Edward Hirsch
The Wadsworth Anthology of Poetry, edited by Jay Parini
The Norton Anthology of Poetry
Alison Grace Johansen is teaching the fall course Introduction to the Art of Poetry, the spring course Formal History of Poetry, and the yearlong class Well-Ordered Language Level 1. She earned her Juris Doctor from the Dickinson School of Law in Carlisle, Pa., where she was comments editor, and her Bachelor of Arts in political science from the University of Richmond in Virginia. She worked as a journalist in Washington, D.C., for over 12 years before pursuing writing and editing in all forms of media: legal and academic publishers, startups and larger companies, magazines, newsletters, websites, books, and social media platforms.
Mrs. Johansen has always loved the written word and the sounds words make, which are the music of poetry. She has been writing poems, stories and songs for as long as she can remember! She also plays several instruments, enjoys singing, and loves using poems and songs as fun memorization tools. After all, poems — in their sound, rhyme, rhythm, tone and movement — are much like songs, which are a key part of the Well-Ordered Language Level 1 curriculum. She believes these forms of expression are beautiful ways students can learn about and praise God's world. She hopes to inspire her students to discover the many ways they can use their own words to express themselves with truth, goodness and beauty.
She lives in northern Virginia with her husband and their two children. Her dedication to her faith and children influences every part of her life, from teaching Sunday school and writing a children's picture book, to exploring the beauty of God's world with her family. If they aren't bird-watching while enjoying a walk outside, you might find them reading aloud together or playing their favorite instruments: the piano, flute, guitar, ukulele, and drums! Her love for both writing and music is one of the many reasons she is excited to share these courses – along with their poems and songs! – with her students. ajohansen.scholeacademy@gmail.com
Computer: You will need a stable, reliable computer, running with a processor with a speed of 1 GHz or better on one of the following operating systems: Mac OS X with Mac OS 10.7 or later; Windows 8, 7, Vista (with SP1 or later), or XP (with SP3 or later). We do not recommend using an iPad or other tablet for joining classes. An inexpensive laptop or netbook would be much better solutions, as they enable you to plug an Ethernet cable directly into your computer. Please note that Chromebooks are allowed but not preferred, as they do not support certain features of the Zoom video conference software such as breakout sessions and annotation, which may be used by our teachers for class activities.
High-Speed Internet Connection: You will also need access to high-speed Internet, preferably accessible via Ethernet cable right into your computer. Using Wi-Fi may work, but will not guarantee you the optimal use of your bandwidth. The faster your Internet, the better. We recommend using a connection with a download/upload speed of 5/1 Mbps or better. You can test your Internet connection here.
Webcam: You may use an external webcam or one that is built in to the computer. Webcam Recommendations: Good (PC only) | Best (Mac and PC)
Headset: We recommend using a headset rather than a built-in microphone and speakers. Using a headset reduces the level of background noise heard by the entire class. Headset Recommendations: USB | 3.5mm
Zoom: We use a web conferencing software called Zoom for our classes, which enables students and teachers to gather from around the globe face to face in real time. Zoom is free to download and easy to use.
To download Zoom:
Visit zoom.us/download.
Click to download the first option listed, Zoom Client for Meetings.
Open and run the installer on your computer.
In August, students will be provided with instructions and a link for joining their particular class.
Explore our courses!
First, read the available course descriptions, noting prerequisites, target grades, and course objectives. If you think your student is prepared for the course, go ahead and register. After registration, a placement assessment may be provided to students, depending on the course and the student's previous enrollment with Scholé Academy. Registration is finalized when the student's placement assessment has been returned by the course instructor with placement confirmation.
Read the Student-Parent Handbook.
Please take careful note of our teaching philosophy, our technology requirements, our school policies, the parent agreement, and the distinctions between our grade levels.
Double-check the course section dates and times.
Make sure they don't conflict with other activities in your schedule or other courses you are purchasing. Our system will not catch double-bookings!
You're ready to add course selections to your cart!
Our Assistant to the Principal will be in touch with you after your enrollment to help you with next steps, including any placement evaluations that may be required for your course selections.
This registration will be finalized when the student's placement assessment has been returned by the course instructor with placement confirmation.